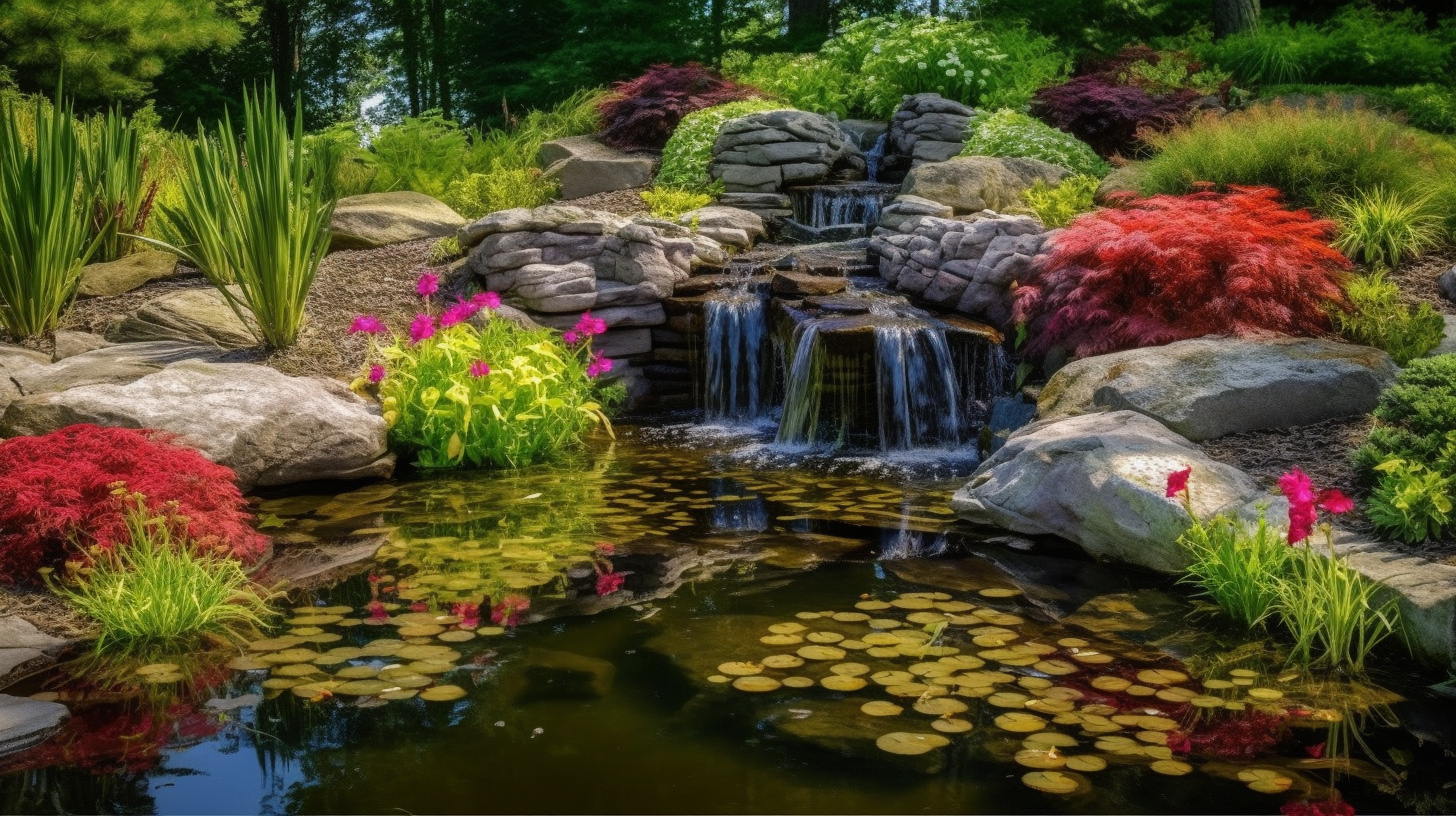 Are you tired of the same old backyard setup? Do you want to add an element of tranquility and beauty to your outdoor space? Look no further than a backyard pond! Not only will it make your yard the envy of all your neighbors, but it also offers numerous benefits for both yourself and the environment. Imagine lazy afternoons spent watching colorful fish swim through crystal-clear water or listening to the soothing sound of a waterfall as you relax in your hammock. It may seem like a dream, but the beauty and benefits of a backyard pond, can be your reality. So why settle for a boring backyard when you could have an oasis right outside your door?
Enhancing the Aesthetics of Your Backyard With a Pond
You may have heard the saying, "a picture is worth a thousand words." Well, the same can be said for enhancing the aesthetics of your backyard with a pond. There's something about adding water to an outdoor space that elevates its beauty and charm to another level. A well-designed pond not only adds visual interest but also provides tranquility by offering peaceful sounds from trickling waterfalls or chirping birds that visit your new oasis.
But why stop at just improving how your yard looks? Installing a pond has numerous benefits beyond the aesthetic appeal it brings. For one, it creates a natural habitat for wildlife like frogs and dragonflies while attracting colorful fish species that add life to your backyard. Additionally, ponds help purify air by reducing airborne pollutants such as dust and pollen. So not only are you making your home more beautiful, but you're helping out Mother Nature too.
Lastly, let's talk about the property value boost installing a pond can provide. According to real estate experts, homes with water features tend to sell faster than those without them because they offer buyers unique selling propositions. By investing in enhancing the aesthetics of your backyard with a pond, you're adding curb appeal and increasing the overall value of your property.
So if you want to step up your landscaping game and make sure every guest who visits leaves impressed, consider adding a pond to enhance the aesthetics of your backyard today!
Improve Your Property Value
If you want to take your property value up a notch, then having a backyard pond is the way to go! Believe it or not, adding this one feature can make all the difference. It's like hitting the jackpot in terms of enhancing your outdoor living space. Not only will it increase your home's curb appeal, but it'll also give potential buyers something extra to swoon over if you ever decide to sell your house.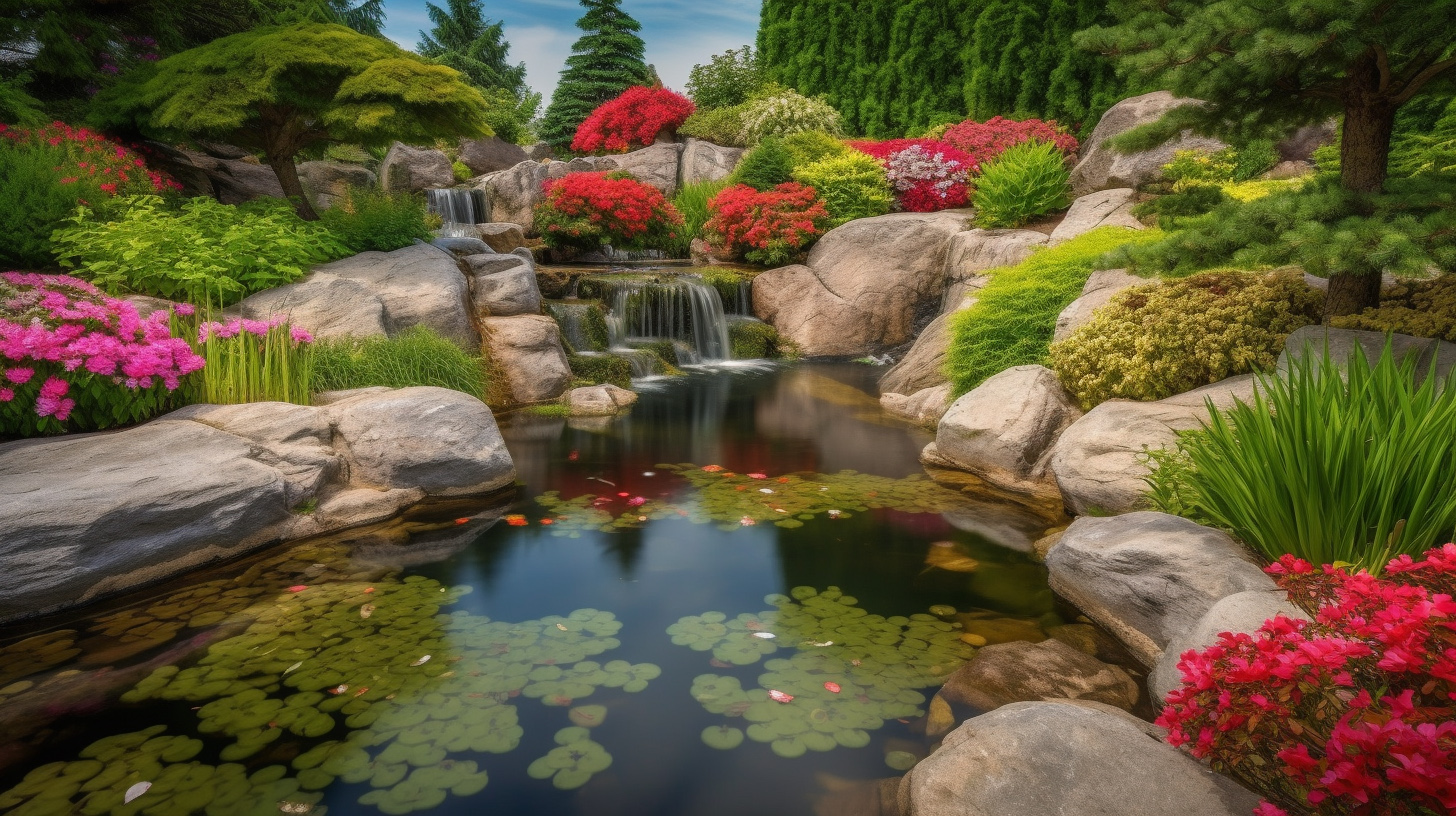 Picture this: You're showing off your beautiful backyard and come across an exquisite pond with several colorful koi fish swimming around. The sound of calm water trickling down from a nearby waterfall fills the air, creating an ambiance that no other feature could replicate. Your guests are impressed beyond measure, and when they leave, they can't wait to tell their friends about how innovative and unique your property is.
Having a pond isn't just for show; there are practical benefits too. In fact, studies have shown that having a well-maintained pond on your property can increase its value by as much as 15 percent! So, what are you waiting for? Take advantage of this opportunity and start reaping the rewards today!
As we've seen, adding a backyard pond has numerous advantages – improving property value being just one of them. But that's not all! There's so much more to gain from having these serene features in our backyards. Let's dive into some of those benefits together.
The Benefits of Having a Backyard Pond
Are you looking for a way to bring more tranquility and visual interest to your backyard? Consider installing a pond on your property! Not only can it increase your home value, but owning a backyard pond has numerous health and wellness benefits as well.
For example, imagine coming home from work after a long day. Instead of sitting in front of the TV or scrolling through social media, you step outside to relax by your tranquil pond. The sound of running water and chirping birds helps ease your stress while the beautiful sight of colorful fish swimming around brings joy to your heart. This is just one scenario where having a backyard pond can positively impact your mental well being.
But did you know that owning a body of water on your property can also improve physical health? Studies have shown that spending time near bodies of water can reduce symptoms of anxiety and depression, lower blood pressure, and even boost immunity. Plus, taking care of a live ecosystem like a pond provides an opportunity for gentle exercise and exposure to fresh air.
In addition to these health benefits, owning a backyard pond also creates opportunities for educational experiences with children or grandchildren who may be fascinated by aquatic life. It adds natural beauty to any landscape design and encourages local wildlife such as frogs, dragonflies, and birds to visit your yard.
So if you're looking for an innovative way to enhance both the aesthetic appeal and overall wellness of your outdoor space, consider installing a backyard pond today!
Conclusion
So, there you have it – the beauty and benefits of backyard ponds. Who needs a boring old lawn when you could have a stunning water feature to impress your neighbors? Plus, think of all the added property value! And let's not forget about the joy of constantly cleaning out algae and maintaining proper pH levels. Ah, yes, nothing beats the tranquility and relaxation that comes with owning a pond…right?
These Helpful Water Feature Topics Will Help You Decide
See for Yourself What We have Built For Others
What are the Benefits of Hiring a Pro?
What We Can Do For You
You Might Also Like...