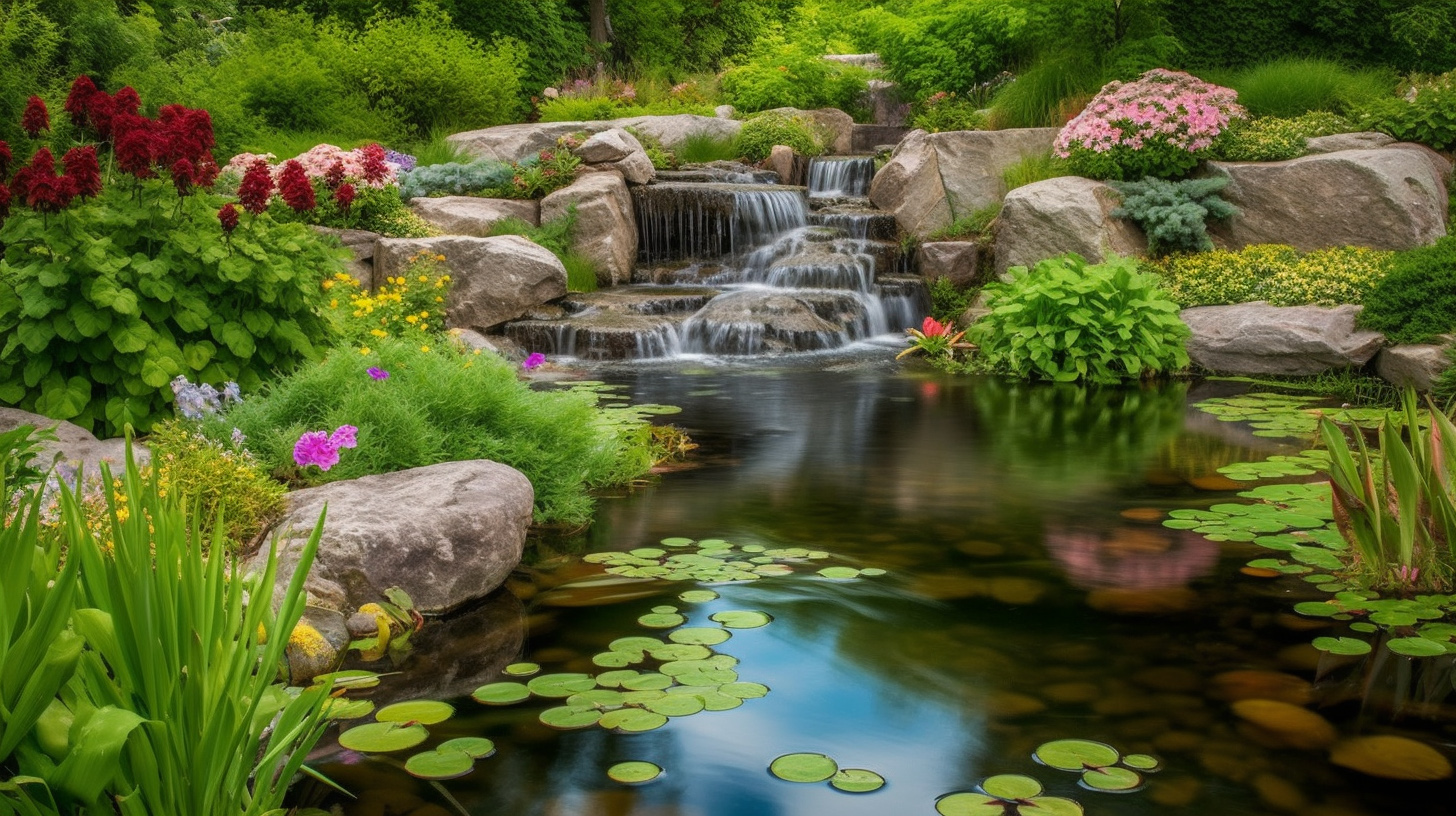 Pondering about the perfect way to add a touch of tranquility into your garden or backyard? Look no further than a pond installation. Ponds can transform an ordinary outdoor space into a serene oasis, and offer countless benefits for both you and the surrounding environment. From providing habitat for wildlife to improving air quality, ponds are an excellent addition to any green space.
But with so many options available, deciding on the right type of pond can be overwhelming. Whether you're looking for a small water feature or a grand statement piece, there are numerous factors to consider when planning your pond installation. In this article, we will explore some creative ideas for installing ponds in gardens and backyards that not only enhance the aesthetic appeal but also promote sustainability and conservation efforts. So grab your notebook and let's dive in!
Choosing the Right Location for Your Pond
One of the most important aspects when installing a pond in your garden or backyard is choosing the right location for it. The ideal spot should have full to partial sunlight and be away from trees, especially if they are deciduous, as falling leaves can clog filters and create an unsightly mess. It's also crucial to consider factors such as soil type, drainage, and accessibility. A level area with good soil drainage will prevent waterlogged conditions that could harm aquatic life. Additionally, you'll want to ensure easy access to electrical outlets for pumps, filters, lights, and other equipment.
Moving on from selecting the right location for your pond, another essential step is deciding on the best design that complements your space.
Selecting the Best Pond Design for Your Space
Looking for the best pond design that suits your space can be a challenging task. With so many creative pond designs available, it is essential to choose one that matches your garden or backyard's overall aesthetic appeal. To begin with, ask yourself what type of atmosphere you want to create in your outdoor space – whether it's a tranquil oasis or an eye-catching focal point. Once you have determined your desired ambiance, select a design that complements its surroundings and enhances the natural beauty of your landscape. Moreover, consider factors such as size, shape, depth, materials used, and maintenance requirements when making your choice.
When selecting from various creative pond designs for your garden oasis, keep in mind that each option has unique features and benefits. For instance, formal ponds are ideal for creating symmetry and elegance in traditional gardens while informal ones blend well with naturalistic landscapes. You may also opt for raised ponds that offer better visibility and accessibility or sunken ones that provide visual interest by blending seamlessly into their surroundings.
Furthermore, waterfalls and fountains can add sound effects to enhance relaxation or attract birds and wildlife to your garden.
Incorporating different elements into your pond will not only make it more functional but also improve its aesthetics. In the following section about adding features and accessories to your pond, we will discuss how to enhance its beauty further by incorporating plants, lighting systems, filtration systems, etc.
Adding Features and Accessories to Your Pond
To transform your backyard with a stunning pond, it's important to consider adding features and accessories that will enhance the overall aesthetic of your space. One way to achieve this is by incorporating parallelism in your design choices – choosing items that are similar in shape or color can create a cohesive visual representation of ideas. For example, if you have a round-shaped pond, consider adding circular stepping stones or arranging rocks in a circular pattern around the edges. Additionally, water features such as fountains or cascading waterfalls can add movement and sound to your pond, creating an even more tranquil environment.
Incorporating plants into your pond installation can also add depth and texture to your space. Water lilies and lotus flowers not only provide visual interest but also help maintain the quality of the water by absorbing excess nutrients. Adding fish or other aquatic life can further enhance the ecosystem of your pond while providing entertainment for visitors.
To complete the look of your backyard oasis, consider installing lighting fixtures that highlight specific areas of your pond at night. This will not only showcase its beauty but also make it safer to navigate around during evening gatherings.
By utilizing these various features and accessories, you can create a unique and personalized pond that transforms your backyard into an inviting outdoor retreat.
Conclusion
Pond installation can enhance the beauty and serenity of any garden or backyard space. When considering pond installation, it is important to choose a suitable location that will complement your landscape design. The right pond design should also be selected based on available space and personal preferences.
Incorporating accessories such as fountains, waterfalls, lighting fixtures, and aquatic plants can further enhance the aesthetic appeal and functionality of your pond. These features will help create an environment where different species of fish and other forms of wildlife can thrive.
To conclude, installing a pond offers numerous benefits both for aesthetics and nature preservation in gardens or backyards. Pond maintenance may require some effort but the results are well worth it in terms of relaxation and adding beauty to outdoor spaces. As William Wordsworth said: "The human mind is capable of excitement without the application of gross and violent stimulants; and he must have a very faint perception of its beauty and dignity who does not know this." A pond is like poetry in motion- tranquil yet captivatingly beautiful!
What Else to Know About Ponds and Water Features
Learn the Pros and Cons of Pond Water Features
What to Know About Water Features
Contact Us For a Water Feature Quote
You Might Also Like...