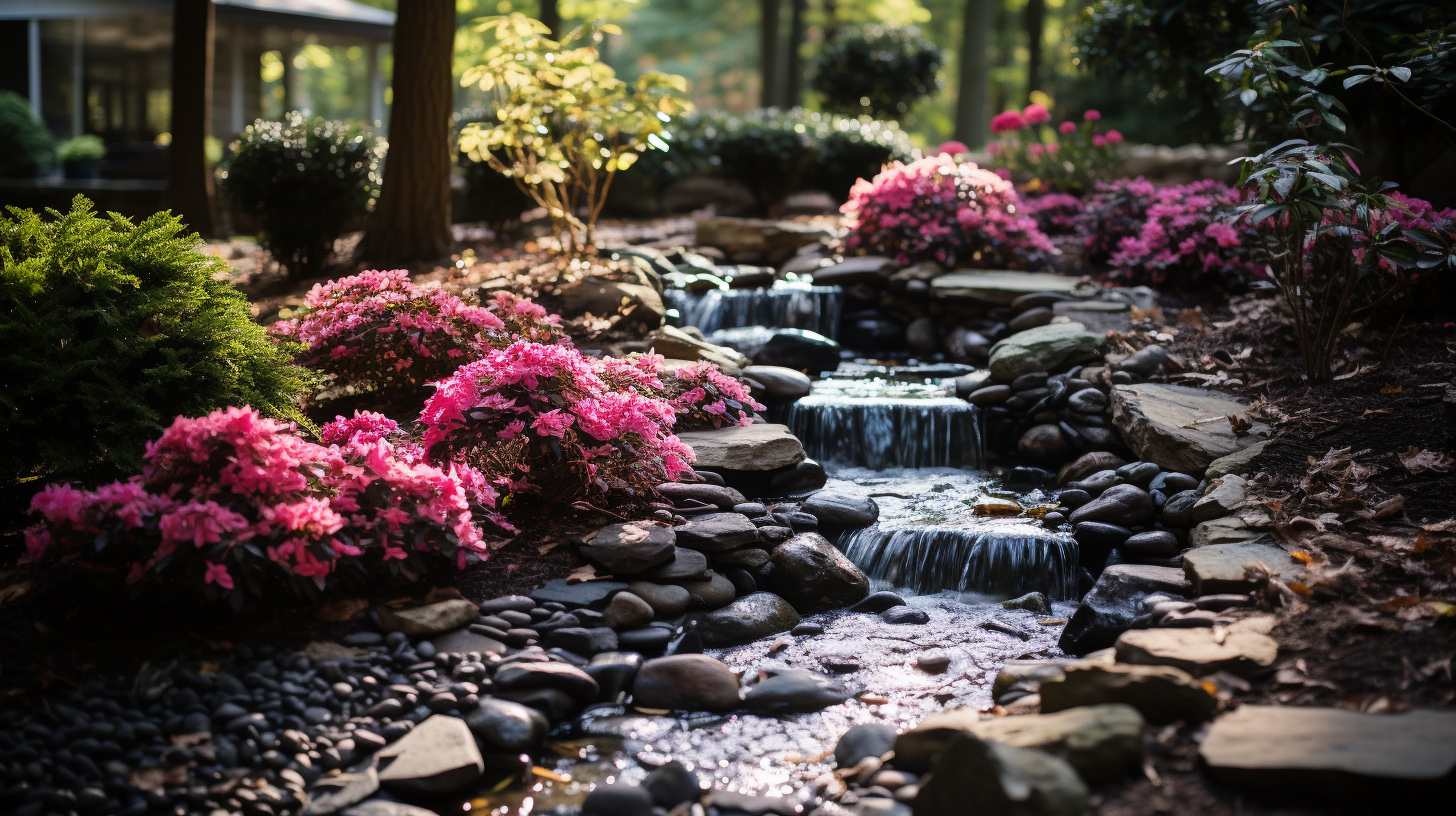 Imagine walking through a lush forest, the sound of waterfalls and streams guiding you deeper into nature's embrace. The beauty of these natural wonders is undeniable, but what if I told you that this same enchanting experience could be recreated in your own backyard? With pondless waterfalls, homeowners can transform their outdoor spaces into serene oases that evoke the peace and tranquility of a forest retreat.
Pondless waterfalls are becoming an increasingly popular choice for those looking to add a touch of luxury to their outdoor living areas without the maintenance required by traditional ponds. These cascading features mimic the look and sound of natural streams while eliminating the need for standing bodies of water, making them ideal for families with young children or pets. Whether used as a focal point or incorporated into existing landscaping, pondless waterfalls offer endless possibilities for customization and creativity. So why settle for a boring backyard when you can have your very own stunning waterfall oasis?
What Are Pondless Waterfalls?
Transforming your backyard into an oasis with pondless waterfalls is a popular landscaping trend that has been gaining momentum in recent years. Pondless waterfalls are essentially recirculating streams and waterfall systems without the presence of standing water, making them ideal for those who want to enjoy the soothing sound of running water but don't have enough space or time to maintain a traditional pond. These unique features can be designed in various shapes and sizes, allowing homeowners to create a customized outdoor retreat that blends seamlessly with their existing landscape.
Unlike traditional ponds which require frequent maintenance, such as cleaning filters and skimming debris, pondless waterfalls typically do not need much upkeep once they are installed properly. They also provide several benefits beyond aesthetics- they can help purify the air by generating negative ions, which neutralize pollutants and allergens present in the environment. Furthermore, these man-made structures offer a safe haven for wildlife like birds and insects while adding value to your property.
Designing your pondless waterfall requires careful consideration of certain factors such as available space, budget, and personal preferences. A good starting point would be to sketch out a rough design plan or consult with a professional landscaper who can guide you through the process. By incorporating natural elements like rocks, pebbles, and plants into your design scheme, you can create a serene atmosphere that mimics nature's beauty and tranquility. In addition to enhancing the visual appeal of your outdoor living area, installing a pondless waterfall provides numerous health benefits that promote stress relief and relaxation – making it an excellent investment for any homeowner seeking to transform their backyard oasis.
Designing Your Pondless Waterfall
The adage, "Beauty is in the eye of the beholder," rings true when it comes to enhancing outdoor spaces with stunning pondless waterfalls. Designing your pondless waterfall requires careful planning and consideration to achieve its full potential. First, determine the location and size of your desired waterfall as this will influence the design elements involved. Next, choose a style that complements your existing landscape or architecture. Whether you prefer a naturalistic or formal look, there are various materials available such as rocks, boulders, and plants that can be incorporated into the design.
Additionally, consider incorporating lighting features to enhance the visual appeal of your pondless waterfall at night. This not only adds an extra dimension to your backyard oasis but also increases safety by illuminating walkways and paths. Furthermore, selecting appropriate aquatic plants for your waterfall's ecosystem enhances its aesthetic value while contributing to filtration processes.
In summary, designing your pondless waterfall involves several key factors including location selection, style choice, material selection, lighting considerations, and plant incorporation – all aimed at improving your outdoor space's beauty and functionality. The next section delves into installation and maintenance details necessary for realizing these objectives without disrupting nature's balance.
Installation & Maintenance
The installation of pondless waterfalls in your backyard can transform it into a picturesque oasis. However, the transformation process requires detailed planning and execution to ensure that it meets your expectations. During the installation process, you need to consider several factors such as selecting an appropriate location, excavation requirements, and choosing suitable materials for construction. The initial setup phase is crucial because it sets the tone for how well-maintained your waterfall will be over time.
In addition to proper installation, maintaining your pondless waterfall is essential for its longevity and continued enjoyment. Routine maintenance includes regularly cleaning debris from the water feature's basin or reservoir, checking pump functioning and tubing connections, monitoring water levels, and ensuring proper chemical balance in the water. Neglecting any aspect of routine maintenance could potentially lead to costly repairs down the line.
To ensure the successful installation and long-term upkeep of your backyard pondless waterfall, working with professionals who have experience in designing, installing, and maintaining these features is recommended. Professional services provide guidance on site selection considerations such as soil types and drainage needs; they also offer advice on which materials are best suited for constructing different components of your pondless waterfall design.
Overall, investing in a pondless waterfall feature for your backyard can provide lasting beauty while offering a peaceful space to relax outdoors. By prioritizing both installation quality and ongoing maintenance efforts through professional support or personal diligence, you'll enjoy this investment for years to come without unnecessary stress or expense.
Conclusion
Pondless waterfalls are a popular backyard addition that can transform any outdoor space into a serene oasis. Unlike traditional pond features, they don't require standing bodies of water to operate and instead rely on underground reservoirs to circulate water. Designing your pondless waterfall is an exciting process where you can customize the size, shape, and style of your installation to fit seamlessly with your landscape. Once installed, maintenance is minimal compared to conventional ponds as there is no need for constant cleaning or algae treatments.
The calming sound of falling water has long been associated with relaxation and tranquility. A pondless waterfall in your backyard allows you to create an idyllic escape from the stresses of daily life without having to leave home. The natural elements involved in creating this feature bring harmony and balance while enhancing the aesthetic appeal of your surroundings. Incorporating allusions such as referencing famous gardens or landscapes throughout history could add an interesting layer of depth when discussing designing options with professionals. With proper planning and execution, installing a pondless waterfall can significantly improve the overall atmosphere of any outdoor area.
You Might Also Like...