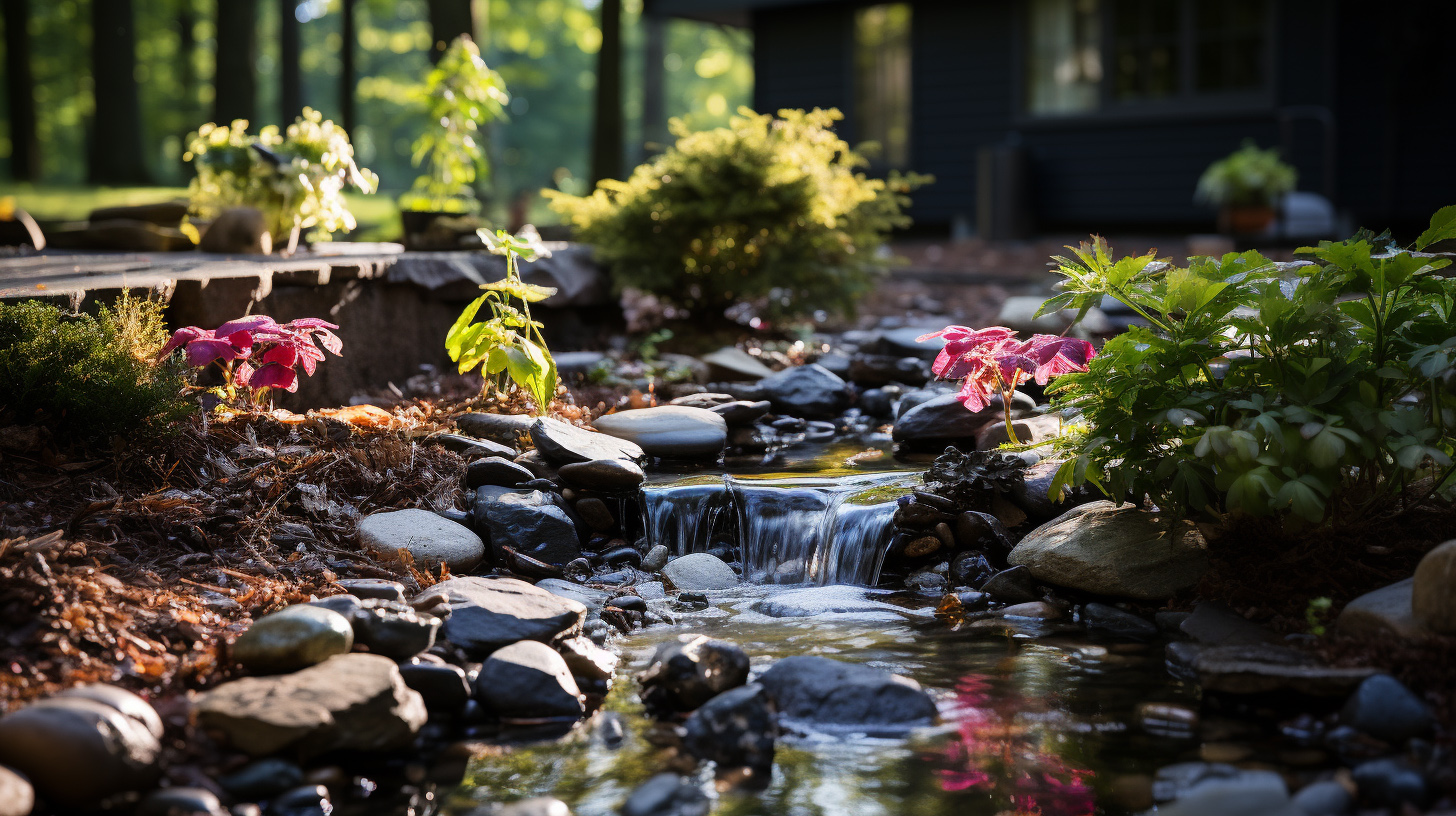 Imagine walking through a lush forest, surrounded by the sweet sounds of nature. You come across a stunning waterfall cascading down into a serene pond below, creating an enchanting atmosphere that takes your breath away. Now imagine being able to bring that same sense of tranquility and beauty into your own backyard. With pondless waterfalls, you can do just that. These captivating features not only enhance the aesthetic appeal of your outdoor space but also provide soothing sounds and a peaceful ambiance for you to enjoy all year round. In this article, we'll explore how these waterfalls work and why they're becoming increasingly popular among homeowners who want to create their own little slice of paradise right at home.
Designing Your Pondless Waterfall
Are you tired of having a dull outdoor space? Do you want to add something that will transform it into an enchanting oasis? Look no further than pondless waterfalls for your outdoor spaces. Designing your pondless waterfall is a great way to create a calming and serene atmosphere in your backyard or patio. With their ability to mimic the sound of running water, pondless waterfalls can help drown out unwanted noise from traffic or neighbors, making them perfect for those seeking peace and tranquility.
When designing your pondless waterfall, there are several things to consider. Firstly, think about the size and shape of your available space. A professional landscaper can work with any area to create a unique design that fits perfectly with your existing landscape. Secondly, choose materials that complement your home's exterior colors and textures. Finally, decide on the type of plants and lighting fixtures you'd like to incorporate around your waterfall.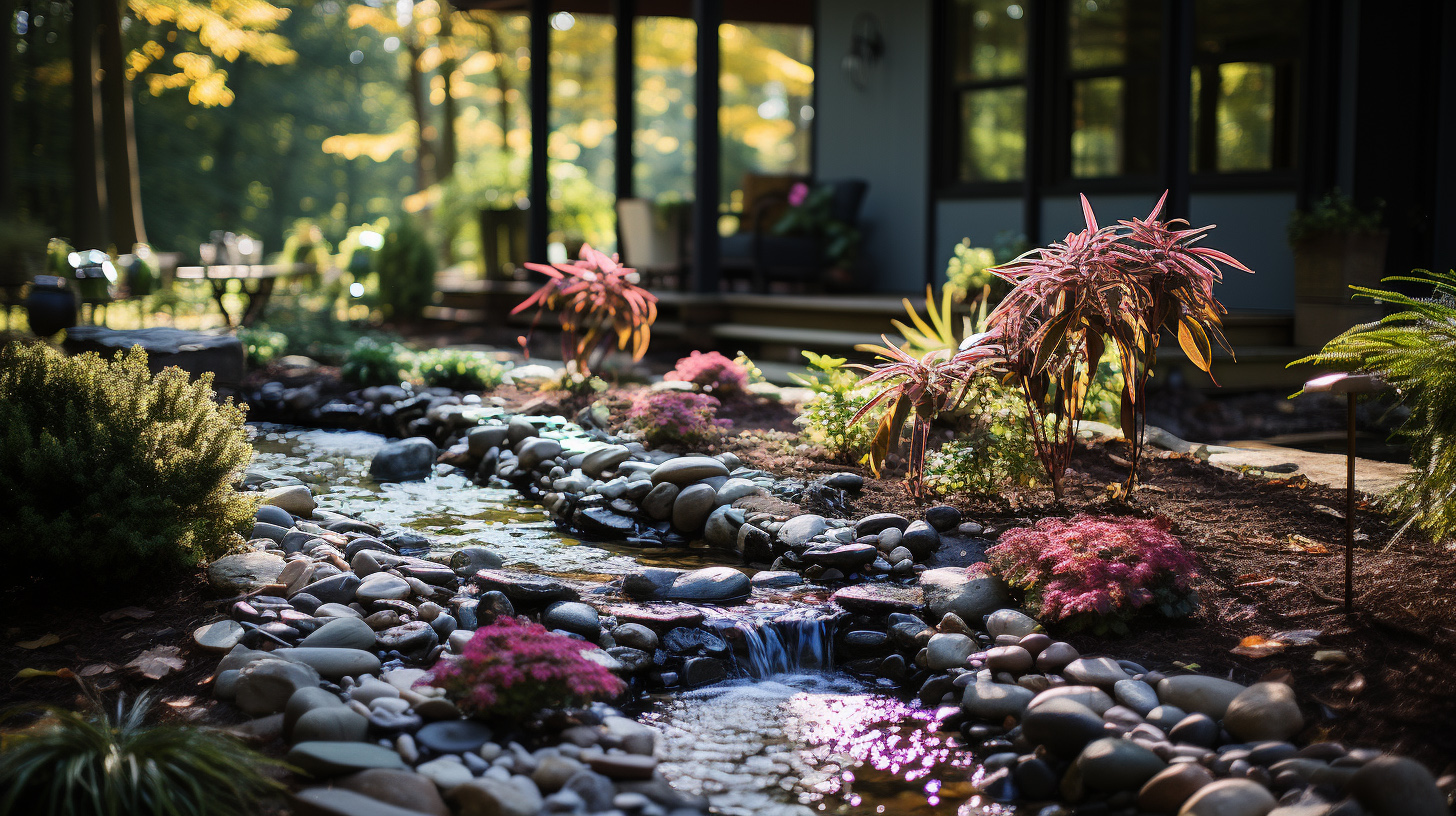 The benefits of adding pondless waterfalls to your outdoor space are numerous. Not only do they provide soothing sounds and beautiful visuals but also have low maintenance requirements compared to traditional ponds as they lack standing water which eliminates the risk of mosquitoes breeding. They're safe for children and pets alike while still providing all the beauty of a natural stream or river without taking up too much room.
Transforming your outdoor space with pondless waterfalls is easy when working with professionals who specialize in creating these stunning features within varied budgets. In short, adding this feature can significantly increase property value along with improving mental health by reducing stress levels caused due to living in busy cities.
Now let's move on to building our very own Pondless Waterfall!
Building Your Pondless Waterfall
So, you've decided to take on the task of building your pondless waterfall. Congratulations! You're about to embark on a journey that will test your patience, perseverance, and possibly even your sanity. But fear not, for with the right guidance and tools at hand, you too can achieve an enchanting outdoor space.
First things first, let's talk materials. You'll need everything from rocks and gravel to pumps and tubing. Don't forget about the waterproof liner and underlayment either; otherwise, you'll end up with a leaky mess instead of a tranquil oasis. And unless you want to dig by hand (which we don't recommend), consider renting heavy machinery like mini-excavators or skid-steer loaders.
Now onto the fun part – construction! Start by excavating the area where your water feature will sit. Next, lay down your underlayment followed by the liner itself. Once that's done, it's time to add some personality with rocks and boulders as well as strategically placed plants for added texture.
Of course, no pondless waterfall is complete without its namesake – falling water! Install your pump and tubing so that water cascades over the rocks in a natural-looking way while also ensuring proper circulation through a filtration system.
And there you have it – your very own pondless waterfall ready for enjoyment all year round. But before we get ahead of ourselves, let's talk maintenance next… Speaking of which…
Maintaining Your Pondless Waterfall
Maintaining your pondless waterfall is essential to keep its charm alive. As you watch the water cascading down, it's easy to forget that there are certain responsibilities that come with owning one. Firstly, regular cleaning of the pump and filter ensures smooth functioning and prevents clogging. Secondly, maintaining proper water levels and checking for leaks will prevent any damage to the surrounding landscape. Moreover, keeping an eye out for algae growth and adding appropriate treatments can go a long way in preserving the pristine beauty of your pondless waterfall.
Coincidentally, just as every drop of water contributes to creating a beautiful cascade, every small effort in maintenance plays a crucial role in sustaining this natural wonder. The sound of flowing water not only calms our minds but also attracts wildlife such as birds and butterflies into our outdoor oasis. However, neglecting maintenance could lead to stagnant water becoming a breeding ground for mosquitoes or unsightly debris accumulating around the rocks.
Therefore, it's important to establish a routine maintenance schedule so that your pondless waterfall continues to be a source of tranquility and delight year-round. With regular upkeep, you'll be able to avoid costly repairs in the future while enjoying all the benefits that come with having an enchanting aquatic feature at home. So don't hesitate – roll up those sleeves and get ready to maintain your little slice of paradise!
Conclusion
So, if you're looking for a way to enhance your outdoor space and create a tranquil oasis, consider adding a pondless waterfall. With its enchanting beauty and soothing sound, it's sure to become the centerpiece of your backyard. Whether you choose to design and build it yourself or hire a professional, maintaining your pondless waterfall will be easy with regular upkeep. So why not take the leap and add this stunning feature to your outdoor space? You won't regret it!
You Might Also Like...