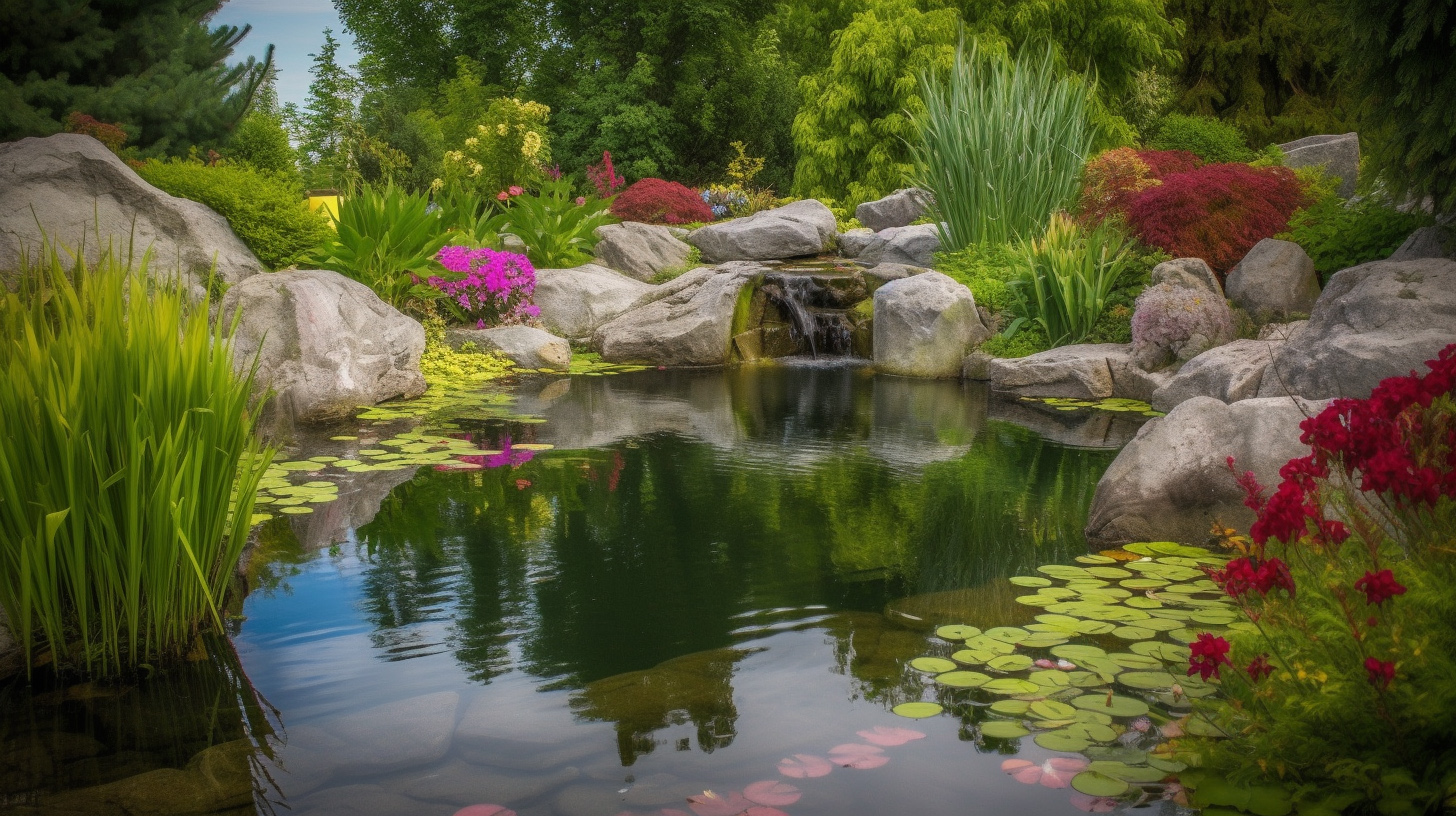 The backyard is an oasis of relaxation and tranquility. It's a place where we can escape the hustle and bustle of the outside world, unwind after a long day, or spend quality time with loved ones. However, to truly transform your backyard into a haven of peace and beauty requires more than just a few plants and furniture pieces. One way to enhance the aesthetic appeal and create a serene atmosphere in your backyard is by adding a stunning pond feature.
A pond feature adds elegance, sophistication, and natural charm to any outdoor space. The sound of water trickling from the fountain or waterfall creates a calming effect that helps soothe frayed nerves while providing an exciting visual display for visitors. With modern technology advancements, you can now customize your pond feature according to your preferences- whether it be Zen-like simplicity or extravagant luxury. In this article, we explore how you can transform your backyard with a breathtaking pond feature that will leave you feeling refreshed every time you step out onto the deck or patio.
Designing your Pond Feature
Creating a tranquil retreat in your backyard with a pond feature is an excellent way to add visual appeal and serenity to the space. Before embarking on designing your pond feature, it is essential to consider various factors such as the size of the yard, budget, and personal preferences. Backyard pond designs come in different shapes, sizes, and styles; some popular options are naturalistic ponds that resemble a small lake or modern geometric-shaped ones. Allusion can be made here to Japanese gardens for inspiration when designing a serene water feature.
When designing your pond feature, several elements must be considered: location, depth, shape, and materials used. Each element will influence how well the pond fits into the landscape design while providing an inviting atmosphere for relaxation. The location should have adequate sunlight exposure throughout the day without being too close to trees whose leaves may fall into the water. The depth of the pond depends on whether you want fish or plants added to it; deeper ponds are better suited if you plan on keeping fish while shallower ponds work best for aquatic plants.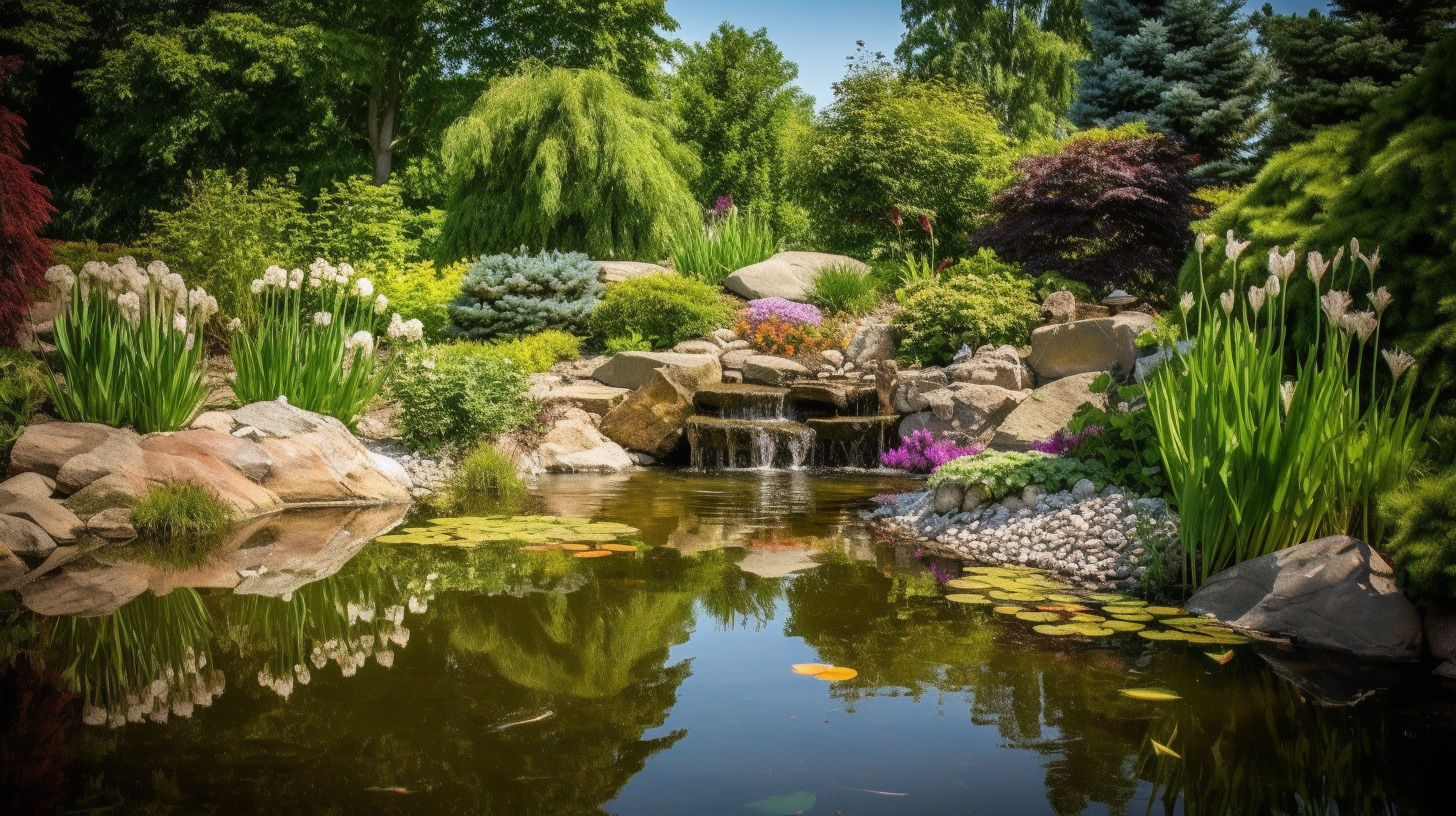 To achieve a harmonious integration between your backyard's existing features and your new pond feature, select materials that complement them. Choosing from rocks of varying sizes and colors along with plants that enhance its aesthetic appeal can help create a cohesive look in your garden area. Ultimately, creating a beautiful pond requires careful planning before executing any ideas – this includes choosing the perfect location for it.
Choose the Perfect Location for your Pond
When considering a custom pond installation for backyard transformation, one of the most important factors to consider is the location. Choosing the perfect area for your pond can make all the difference in its aesthetic appeal and functionality. There are several key elements to keep in mind when selecting a spot for your pond.
Firstly, it's essential to choose an area that receives a good amount of sunlight but isn't too exposed. Excessive sun exposure can lead to algae growth, while too much shade could prevent plants from thriving. Secondly, ensure there is adequate access to electricity and water sources as these will be necessary during construction and maintenance. Furthermore, take into account any nearby trees or shrubs that may drop leaves or debris into the pond?this could cause unnecessary cleaning and maintenance issues.
Lastly, think about how you'll use your pond feature; will it be primarily for aesthetics? Or do you plan on introducing fish or aquatic plants? Depending on your intended purpose, certain areas may work better than others. For instance, if you're looking to add koi fish to your pond, you'll need a deeper area with enough space for them to swim around comfortably.
In conclusion, choosing the right location plays a significant role in creating a beautiful and functional custom pond installation for backyard transformation. Consider sunlight exposure, proximity to water and electricity sources, potential debris drop zones from surrounding flora/fauna and planned usage before finalizing any decisions regarding placement. Once this step has been taken care of adequately now we move onto understanding maintenance and upkeep requirements of maintaining such installations which would help preserve their beauty over time.
Maintenance and Upkeep
Maintenance and upkeep are crucial elements to consider when creating a stunning pond feature in your backyard. Regular maintenance is necessary for the health of the plants, fish, and overall ecosystem within the pond. It's important to regularly remove debris such as leaves, twigs, and other organic matter that can accumulate at the bottom of the pond; otherwise, it may cause an imbalance in the water chemistry or even lead to algae bloom. Proper filtration systems should be installed to ensure clean water and healthy aquatic life.
Additionally, regular testing of pH levels and water quality is essential for maintaining a balanced environment for plants and animals living in the pond. Adequate lighting is also critical since too much sunlight can encourage excessive plant growth while insufficient light might hinder its development. In addition to routine cleaning tasks, seasonal maintenance should also be conducted. For instance, during winter months where temperatures dip below freezing point, proper measures must be taken to prevent ice formation from damaging the pond structure.
In summary, maintaining a beautiful pond feature involves ensuring proper care of both flora and fauna within it through consistent cleaning procedures like debris removal along with implementing adequate equipment such as filters or pumps. Regular monitoring of various factors affecting water quality ensures optimal conditions are maintained throughout different seasons resulting in a thriving ecosystem for all inhabitants residing therein.
Conclusion
Transforming your backyard with a stunning pond feature can be an excellent way to add beauty and tranquility to your outdoor space. To design the perfect pond feature, consider the size and shape of the pond, as well as any surrounding landscaping features that may complement it. Additionally, choosing the ideal location for your pond is crucial; factors such as access to sunlight, drainage, and proximity to other structures all play a role.
Once you have designed your pond feature and installed it in your backyard oasis, make sure to keep up with maintenance and upkeep. Regularly cleaning debris from the water's surface and maintaining proper levels of chemicals will help ensure that your pond remains healthy and beautiful for years to come.
In conclusion, adding a stunning pond feature to your backyard can transform it into an oasis of peace and serenity. As William Wordsworth once said: "Come forth into the light of things / Let nature be your teacher." So let nature guide you in designing an exquisite pond feature that complements both your home's aesthetic style and its natural surroundings.
What to Know About Ponds and Water Features
Increase the Value of Your Home with a Pond
Benefits of Hiring a Pro to Install Your Pond
Contact Us for a Free Water Feature Estimate
You Might Also Like...