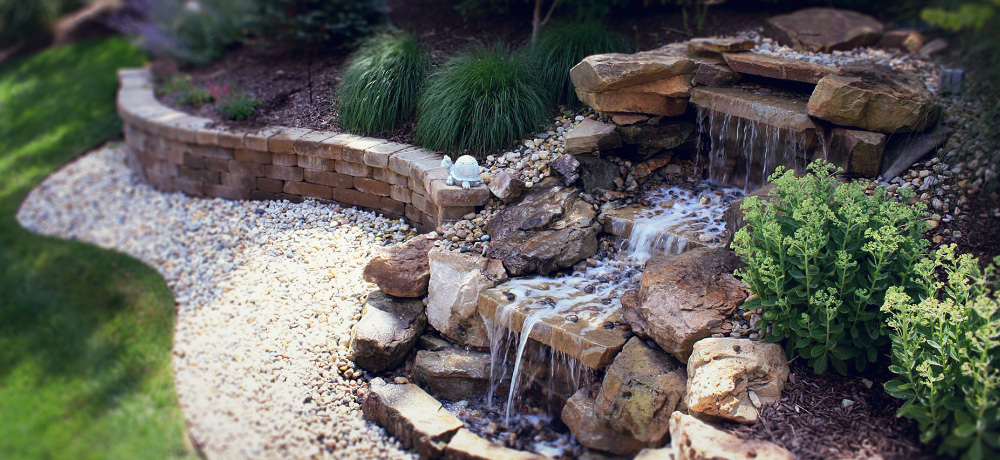 Salt Lake City Water Features/gardens make a great addition to an outdoor living space. They are aesthetically pleasing and have a soothing effect on nerves. Many customers don't want fish. In fact, some don't even want a pond! But, they do enjoy the soothing sounds and appearance of a beautiful waterfall. This system makes the installation of water features possible in high liability areas such as shopping centers, office buildings or public facility entrances. These are called Pondless Waterfalls. Adding a pondless waterfall in the front yard is a great way to increase property value by enhancing your curb appeal. An even simpler water feature than the pondless waterfall is our line of decorative products. These can be installed in very small spaces and are a perfect and less expensive introduction to the joys of running water in your yard. Salt Lake City Water Features has thought of it all to make your outdoor experience more enjoyable.
Contact us for a free Salt Lake City Water Feature Installation Quote!
Here at Salt Lake City water features our garden fountains are a popular amenity for gardens large and small. There is no project to large to install. With proper installation you can enjoy a pleasant flow of water, which helps block background noise and enhance the tranquility and peacefulness of your outdoor living areas and patios. Like ponds and water gardens, waterfalls add a sense of beauty and calm to your home landscape. For those who love the sound of water cascading off rocks or spilling into a pond below, a waterfall is the perfect addition to the yard. If you've recently installed a pond or a water garden, you might be considering including a waterfall to aerate the water and create a melodious sound. There are many water features in which to choose, trust Salt Lake City Water features to help choose the right one for you. Contact "A Touch of Nature" at +1 (801) 808-5303
You Might Also Like...