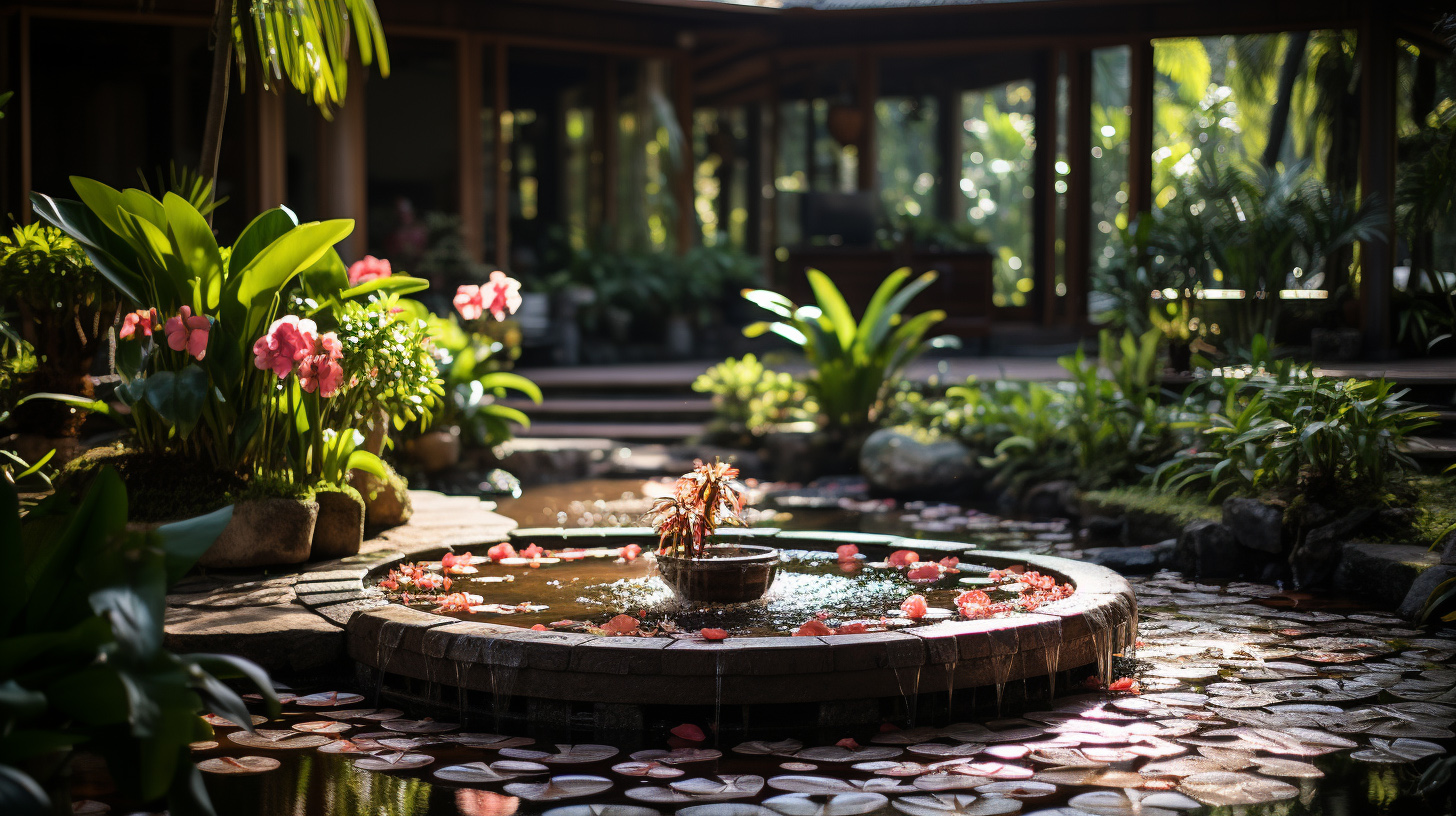 In today's fast-paced world, it is important to create a peaceful oasis in our homes where we can unwind and relax. One way of achieving this is by incorporating a water feature into the design. A well-designed water feature not only adds aesthetic appeal but also has numerous health benefits such as reducing stress levels and improving air quality.
According to a study conducted by the University of Exeter, being close to water has a positive impact on mental well-being, reducing anxiety and depression. In addition, the sound of running water creates white noise that blocks out distracting sounds from outside, creating an environment conducive to relaxation. Incorporating water features into a home design is becoming increasingly popular among homeowners, with a 2019 Houzz survey revealing that over half of respondents were interested in adding water features to their outdoor living spaces.
Choosing the Right Water Feature
When it comes to creating a peaceful oasis in your outdoor space, one of the key elements that can help achieve this is incorporating a water feature. However, with an array of different options available, choosing the perfect water feature for your peaceful oasis can be overwhelming. The first step in selecting the right water feature for your space is determining what type of ambiance you want to create. If relaxation and tranquility are at the top of your list, a gentle waterfall or reflecting pool may be more fitting than a bubbling fountain or dramatic pond. Additionally, considering factors such as size, style, and maintenance requirements will also play a crucial role in making your final decision.
Once you have chosen the perfect water feature for your peaceful oasis, it's time to start thinking about how to incorporate it into the overall design scheme. Integrating natural materials like stone or wood around the water feature can enhance its aesthetic appeal while also blending seamlessly with surrounding landscaping elements. Lighting can also add another layer of visual interest by illuminating both the water feature itself and any plants nearby. By thoughtfully designing every aspect of your outdoor space, from hardscaping to planting choices, you can create a cohesive and serene environment that's sure to become your go-to spot for unwinding after a long day.
Designing Your Oasis
Designing your tranquil oasis with a water feature is an exciting process that requires careful planning and consideration. As you embark on this journey, imagine yourself surrounded by lush greenery, the sound of trickling water calming your senses. The first step in designing your oasis is to consider its purpose – will it be a place for relaxation or entertainment? Once you have established this, think about how much space you have to work with and what kind of vibe you want to create.
With these factors in mind, start thinking about the layout of your oasis. Consider adding elements such as rocks or boulders to add texture and depth to your design. You could also incorporate seating areas or walkways to encourage visitors to explore their surroundings. When selecting plants, aim for those that thrive in wet environments and can withstand direct sunlight if necessary.
When choosing a water feature, ensure it complements the overall style of your oasis. There are various types available including fountains, ponds, and cascading features each offering different benefits and drawbacks depending on personal preference. It's important to note that some require more maintenance than others; therefore choose one based on how much time you're willing to invest in upkeep.
In conclusion, designing your tranquil oasis with a water feature allows you to create a peaceful haven where nature meets luxury. By carefully considering all aspects from layout down to plant selection and water features, you'll achieve a cohesive design suitable for any occasion. With the right tools at hand, crafting an environment perfect for restful moments has never been easier! In the next section, we will discuss how best to maintain your chosen water feature…
Maintaining Your Water Feature
Maintaining your water feature is an essential aspect of creating a peaceful oasis. Without proper maintenance, the water feature may become stagnant and unappealing. There are several steps that need to be taken to ensure that the water feature remains in top condition. Firstly, it is important to regularly clean the pump and filters to prevent debris from clogging them up. Secondly, adding beneficial bacteria can help maintain healthy levels of natural microorganisms in the water which assist with maintaining clarity and reducing unpleasant odors.
Another important consideration for maintaining your water feature is ensuring that there is sufficient oxygenation in the water. This can be achieved by installing an aerator or fountain, which not only adds visual appeal but also helps maintain a healthy ecosystem within the pond or pool. Other factors such as monitoring pH levels, keeping invasive plant species under control, and removing any dead leaves or other organic matter should also be considered when taking care of your water feature.
In addition to regular upkeep tasks like cleaning and monitoring chemical levels, scheduling inspections by professionals trained in aquatic management best practices can help identify potential issues early on before they become major problems. By following these guidelines for maintaining your water feature, you will keep it looking beautiful year-round while minimizing disruptions caused by algae blooms or other unsightly conditions.
To sum up, maintaining your water feature requires consistent attention and effort but pays off over time with a tranquil haven where you can relax amid nature's soothing sounds and sights. So ask yourself? what measures have you taken lately to ensure that your water feature stays pristine?
Conclusion
Creating a peaceful oasis with a water feature can add tranquility and beauty to any outdoor space. There are various types of water features, including ponds, fountains, and waterfalls, which come in different shapes and sizes that cater to individual preferences.
When choosing the right water feature for your backyard or garden, consider factors such as the available space and maintenance requirements. The design of an oasis should also blend well with surrounding elements like plants and hardscaping structures. A properly designed water feature can become the focal point of the landscape while providing a soothing sound of running water.
According to a survey conducted by the National Association of Landscape Professionals (NALP), 80% of Americans believe it is essential to have a beautiful yard. Installing a water feature is one-way homeowners can enhance their outdoor living spaces while increasing property value. Maintaining a water feature requires regular cleaning, proper circulation, and chemical balance adjustments. Proper upkeep will ensure its longevity and continued enjoyment for years to come.
In conclusion, creating an oasis with a water feature is an excellent investment in enhancing outdoor living spaces' beauty and serenity. Homeowners must choose the right type of water feature based on their preferences, available space, and maintenance needs. While installing these features may require some upfront costs and ongoing efforts in maintaining them properly; they are worth it because they increase both aesthetic value and property values alike!
You Might Also Like...