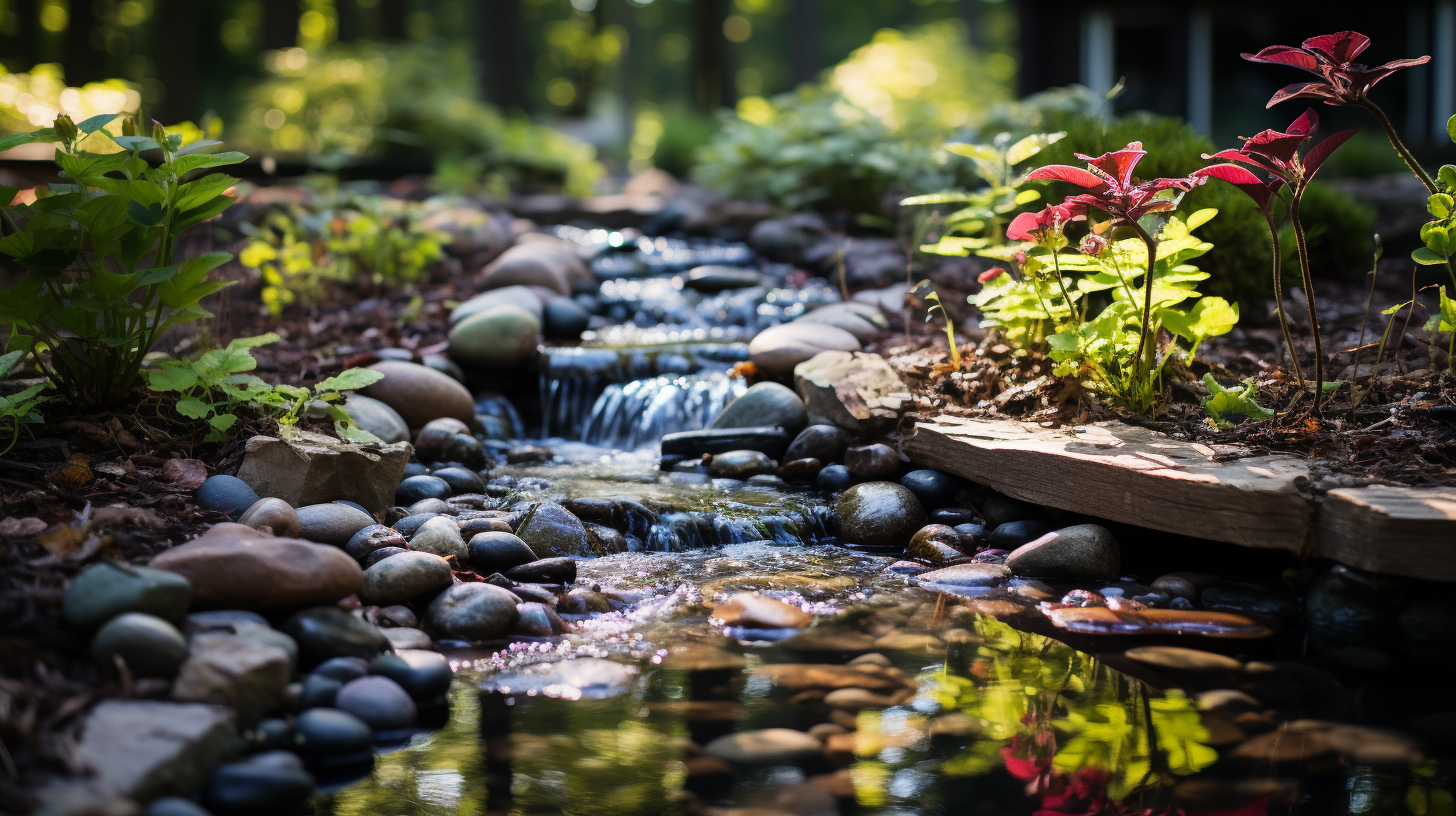 Waterfalls are a natural wonder that inspires awe in people of all ages. The sound of rushing water and the sight of cascading streams can create a tranquil atmosphere, making it an ideal addition to any landscape design. For homeowners who want to bring this beauty into their outdoor space but don't have room for a traditional pond or waterfall, there is another option: pondless waterfalls.
Pondless waterfalls offer all the benefits of a regular waterfall without taking up as much space or requiring as much maintenance. They use a recirculating system that pumps water from beneath rocks and gravel, creating the illusion of a natural stream while eliminating the need for standing pools of water. With stunning visuals and calming sounds, pondless waterfalls are perfect for enhancing any backyard oasis. As William Wordsworth once said, "Nature never did betray the heart that loved her." Upgrade your landscape with the beauty of pondless waterfalls today!
Why Pondless Waterfalls Are a Great Addition to Your Landscape
Integrating a pondless waterfall into your outdoor area can have several advantages. One of the main benefits of adding this feature to your landscape is the aesthetic appeal it brings, which enhances the overall beauty and ambiance of the space. Pondless waterfalls come in various designs that offer different styles, sizes, shapes, and colors that you can choose from depending on your preferences. Additionally, they create a soothing atmosphere with their calming sound effects, especially when combined with other elements such as lighting or natural stones. Another significant advantage is their low maintenance requirements compared to traditional ponds because there are no standing bodies of water to worry about. This means less time spent cleaning algae or debris and more time enjoying your outdoor living space.
Moreover, incorporating a pondless waterfall into your outdoor area has environmental benefits too. They promote biodiversity by attracting wildlife like birds and butterflies who enjoy playing around them or drinking from them during hot weather conditions. Furthermore, pondless waterfalls help improve air quality by releasing negative ions into the air through the splashing effect produced by falling water droplets. These negative ions neutralize positive ions found in contaminants such as dust particles and pollen grains.
In conclusion, adding a pondless waterfall to your garden offers numerous advantages for both aesthetic purposes and environmental sustainability. The next section will discuss how to design an ideal pondless waterfall that suits your personal style while considering important factors such as location, size, and materials used amongst others.
Designing Your Pondless Waterfall
Are you looking to incorporate pondless waterfalls into your landscape design? If so, it is important to start by designing a plan that will fit seamlessly with the rest of your outdoor space. Before diving in, consider factors such as the location and size of your desired waterfall, the materials needed for construction, and any potential safety concerns. By taking these steps, you can ensure that your new addition will not only enhance the beauty of your yard but also be functional and safe.
One key aspect to keep in mind when designing your pondless waterfall is ensuring proper drainage. This means creating an underground reservoir that will hold the water before recirculating it back up through the rocks and other elements of your waterfall. To achieve this properly, you may need professional help from landscapers or contractors who specialize in water feature installations.
Another factor to consider when designing your pondless waterfall is incorporating natural elements like plants and stones. These additions can create a more cohesive look with nature while adding depth and texture to your overall design. Additionally, choosing eco-friendly options like LED lighting can reduce energy consumption while still illuminating the waterfall at night.
Overall, planning a beautiful and functional pondless waterfall requires careful consideration of various factors including drainage, location, materials used, and incorporation of natural elements. By following these guidelines – along with seeking professional help if necessary – you can effortlessly upgrade your landscape with a stunning new addition that enhances both form and function. In order to bring this vision to life successfully, however, installation and ongoing maintenance will be critical next steps.
Installation & Maintenance of Your Pondless Waterfall
As the adage goes, "Water is life." This is especially true when it comes to upgrading your outdoor space with pondless waterfalls. Transforming your landscape with the beauty of pondless waterfalls can enhance your garden in so many ways. However, once you've designed and planned out your waterfall, the next step is the installation and maintenance of your pondless waterfall.
Installation requires careful planning and execution to ensure that everything runs smoothly. It's important to choose a suitable location for the waterfall, taking into account factors such as sunlight exposure and drainage requirements. Once this has been decided upon, excavation work will need to be carried out before installing the necessary plumbing and filter systems. The installation process may take some time but it's worth it in order to achieve the desired results.
Maintenance of a pondless waterfall involves regular cleaning and upkeep to keep it looking beautiful year-round. One key aspect of maintenance includes checking on the pump regularly, making sure it is functioning properly and not clogged with debris or leaves. Another important factor is adding beneficial bacteria which helps maintain a healthy ecosystem within the waterfall feature.
In conclusion, if you want to upgrade your outdoor space with stunning pondless waterfalls, then proper installation and maintenance are crucial steps toward achieving this goal. By following these guidelines carefully, you'll be able to transform your landscape into an oasis of tranquility where you can relax and enjoy nature at its best!
Conclusion
Pondless waterfalls serve as a beautiful and practical addition to any landscape. They offer the soothing sound of flowing water without requiring a large body of standing water, making them ideal for small spaces or areas with safety concerns. Additionally, they are low maintenance and eco-friendly, using less water than traditional ponds.
When designing your pondless waterfall, consider factors such as placement, size, and materials. A professional landscaper can help create a custom design that fits seamlessly into your existing landscape while ensuring proper installation for optimal function and longevity.
While some may argue that traditional ponds provide more benefits to wildlife and plant life in the surrounding area, studies have shown that well-designed pondless waterfalls still support biodiversity by providing shelter and moisture for various species of plants and insects. Overall, pondless waterfalls offer an attractive and sustainable option for enhancing the beauty of any outdoor space.
You Might Also Like...